Stahl Truck Bodies
STAHL / Scott Fetzer Company established in 1946 is a manufacturer of service bodies, dump bodies, utility van bodies, stake bodies, toolboxes, cranes and truck accessories. Whether you lift, store, dump, or haul; STAHL has the body to meet your needs.
Challenger ST Service Body
The ChallengerST service body is a rugged, dependable mobile workstation. Multiple compartments and a large open cargo space supply generous storage and hauling room for all your equipment. Quickly locate your tools and improve your work efficiency with the adjustable shelves and material trays that organize your storage units. Convenient keyed alike locks, double panel steel doors and weather tight seals protect your assets from theft and the elements.
The Challenger is the classic choice of fleet managers and independent contractors alike for the tough galvanneal steel construction, convenient access and extended years of service.
Utility Service Body
Over 30 years ago, STAHL was the first service body manufacturer to design a Utility Service Van (USV) to fit a cutaway chassis. Today, STAHL is proud to introduce the next generation USV. The USV features exclusive lock bolt construction, bolt-on door hinges with integral spring loaded door holders, high styled body sides, bolt-on single stage rotary latches, clip on door seal and large clear door openings. It is designed for the business that needs a stand-up work area and maximum storage space for tools and equipment on the go. Spacious interior and exterior compartments supply abundant storage for all your equipment and supplies and are quickly accessible with the walk-through cab design. A large, open cargo space provides extra hauling room and doubles as a covered work center.
You get up to 65% more storage space than a conventional van and up to two tons of payload capacity. Heavy duty galvanneal steel body construction with automotive door seals and rotary latches with stainless steel paddle handles extends service life. This mobile cargo management system is popular in a variety of vocations from electricians and plumbers to telephone and electric utilities.
Grand Challenger

The Grand Challenger Service Body combines sleek, automotive styling with a durable, user-friendly design. The Grand Challenger is constructed of rust-resistant galvanneal steel and is designed to complement today's high-styled truck cabs. Features contoured body sides, concealed door hinges, chassis-style taillights and automotive-style fuel fill doors. All door locks are keyed-alike for convenient access to storage compartments, and your assets are protected from the elements with weather-tight automotive door seals.
The Grand Challenger compartmentation is customized to fit your work needs. Adjustable material trays with adjustable dividers allow you to organize your tools for you can work more efficiently. This deluxe service body projects a professional image while achieving all of your storing and hauling needs.
Champion Dump Bodies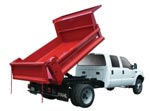 The Champion 2/3 & 3/4 yard Dump Bodies are designed to cover the job requirements of landscapers, general contractors and municipalities.
This durable body features integral dirt shedding horizontal bracing in the gate and sides that reduces the amount of welding required, adds strength to these critical areas and enchances the overall appearence..
Challenger Dump Bodies

The Challenger Dump Body is designed to meet the demands of the landscapers, general contractors and municipalities. It combines hte best elements of a small dump body with the tool storage space of a service body. The Challenger Dump Body will also increase your bottom line by eliminating the need for two trucks on the job site. All your light duty storage and hauling demads can be fulfilled  with the versatile  and hard working Challenger Dump Body.
Stake Bodies

The Stake Body is ideally suited for commercial hauling applications. Choose from wood, steel, or treadplate floor options to fit your individual company needs. Side and end rails are constructed of high strength steel.
The optional stake racks are equipped with heavy-duty hardware for fast and easy installation and removal. Simplify your transportation efforts with this versatile body.
Crane Bodies
Crane body gives you the storage space you need with lifting capabilities. Reduce the risk of injury from lifting by letting the crane do the work for you. The body is reinforced for various lifting applications. Assorted compartments with a large open cargo space supply generous storage and hauling room for all your equipment.
Quickly locate working tools with the adjustable shelves and material trays that organize your work area. Keyed alike locks, single panel steel doors and weather tight seals protect your supplies from theft and the elements. Use the crane for all your lifting and storage needs.
Back Pak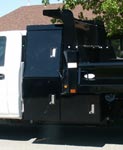 Our Back Pak is a transverse box that easily adds storage saplce without interferring with operation of the truck body. Perfect for use with dump bodies, flatbeds, utility bodies and wrecker bodies.
Tapered design and high styled doors complement the truck cab. Available in "I" and "L" configurations.
Tool Boxes
You have a big investment in your truck and tools. And like any investment, it makes sense to manage it wisely.Stahl's
Toolboxes provide uncompromising protection for your tools and supplies from loss, theft, and weather. Made of heavy-duty galvanneal steel, the Model 30 and Model 50 Toolboxes will improve the resale value of your truck. The "street smart" and tested design of Stahl's Toolboxes will enhance your productivity because your tools and supplies will be protected, organized, and accessible.
Versalift East no longer carries STAHL bodies however we do carry: