Vanair Vehicle-Mounted PTO Air Compressors
Since 1972, Vanair has grown from a small subsidiary of Sullair Corporation to an independently owned and operated company that is today the world's largest manufacturer of vehicle-mounted air compressors. As the first company to utilize Power Take-off (PTO) technology, Vanair continues to develop a full line of abovedeck, underdeck, and underhood units of various drive and operational methods to offer products that best fit customers' applications.
In addition to the most comprehensive line of air compressors in the industry, Vanair – the true innovator of PTO Compressor Technology – also offers vehicle-mounted generators and accessories, including the Vanair-patented Genair®. The Genair is a combination air compressor/generator that delivers up to 185 cfm of air and 10,500 watts of integral power. With state-of-the-art engineering, components that are designed and manufactured in the USA, and an unwavering dedication to continuous improvement, Vanair is the leader in delivering the power and performance to help you be your best!
Air Compressors – The Most Comprehensive Line in the Industry
30 CFM to 900 CFM
As the first company to utilize PTO technology, Vanair offers the most comprehensive line of vehicle-mounted air compressors on today's market, including:
PTO-driven Rotary Screw
Hydraulic Drive Rotary Screw
Gasoline-powered Rotary Screw
Transmission Mount Rotary Screw
Hydraulic Drive Reciprocating
Diesel-powered Rotary Screw
Underhood Belt-driven Rotary Screw
Vanair is also the one and only company that has these advantages: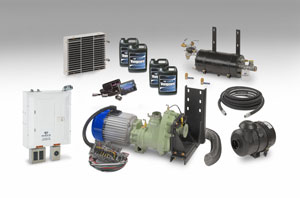 The Vanguard™ Lifetime Warranty
Exclusive rights to the Sullair® air end
The innovative in-tank air/oil separator.
Vanair's air compressors are available in three mounting configurations:
Abovedeck – 30 to 185 CFM
Underdeck – 60 to 900 CFM
Underhood – 70 CFM
Genair Air Compressor / Generator
The Genair® is an underdeck unit that combines the power of a 125 to 185 cfm air compressor with the convenience of a patented, integral 7,200 to 11,600-watt AC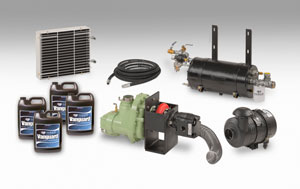 generator. Whether you need an air compressor only, an AC generator only, or your application demands that you run them both at the same time, the Genair® system maximizes the power of your truck's engine by safely enabling you to access both pneumatic and electic power via your single PTO drive. Precise frequency controls keep output regulated within two percent.
The Genair® system couples directly to the rear of the rotary screw air end. This provides constant power input without belts, pulleys, or tensioning devices. The Genair® also eliminates the need to replace your truck's alternator, belts, and sheaves to install a power inverter.
Ideal for pipeline sewer inspection, plastic pipe fusion, auxiliary lights, and on-board air compressor and AC electric power requirements.
Road Power Generators
Save weight, space, and money with Vanair's Road Power Generator – an underdeck unit that offers the power of a 4,000 to 25,000-watt AC generator. This innovative unit – developed by Vanair over 15 years ago – maximizes the power of your engine by enabling you to access AC power via your truck's PTO drive. Ideal for plastic pipe fusion, night lighting, pumps, heaters, power outages, and pipe line relining equipment in the most remote locations.
Special Features
Generates real AC power – not simulated or converted power – in capacities from 4,000 to 25,000 watts
Offers both 120-volt and 240-volt outlets
Equipped with precise frequency controls to keep output regulated within two percent
Safety Equipment
Built-in overspeed protection
Ground fault interrupter circuit
Power shut-off relay
Built-in short circuit protection
Options/Accessories
Frequency meter
Amp meter
Voltage meter
Remote on/off switch
Quality Features
Maintenance-free design
Brushless design
400% motor starting capabilities
Lifetime lubricated bearings
Quiet operation
Hydraulic Features
Pressure compensating flow regulator
Lifetime guaranteed alignment
Operates on open- or closed-loop system up to 2500 psi
V3 Multi-Drive System
One PTO – Three types of Power! Get maximum productivity from your fleet wiwth Vanair's innovative system that combines the power of a 125 to 200 CFM air compressor, a 7,200 -to- 11,600-watt AC generator, and an auxiliary pad provision for hydraulics via a single PTO for the power and the versatility yo expect from the industry leader.
Special Features
Auxiliary SAE B pad
Multi-Drive System – up to 3 power sources
Constance power input without pulleys or tensioning devices
125 to 200 CFM air compressor capacities
7200 to 11,600 watts (peak), producing 120 or 120/240 volts at constant 60 HZ
Power sources run simultaneously or independently
Lifetime warranty on air end
Provisions for hydraulic pump
Saves space
Saves weight
Frees up trailer hitch
Easy to install
Safety Features
Built-in over speed protection
Ground fault interrupter circuit
Remote-mounted control panel
Air pressure-relief safety orifice
Oil fill plug safety relief