Manitex Sky Crane SC62 Aerial Lift / Sign Crane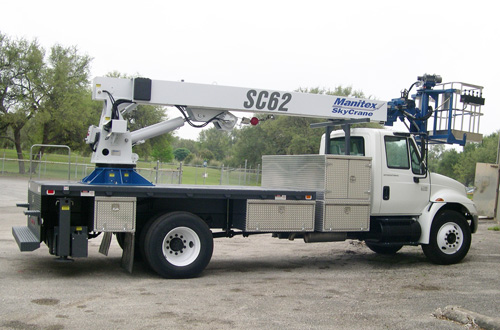 BOOM
Boom Sections – 4-plate design, telescopic booms equipped with teflon-plugged nylatron wear pads for smooth operation. Extend and retract hydraulic cylinder on 3-section booms telescope system consists of a telescoping cylinder and wire rope crowds. Nylatron wear pads easily accessible for lubrication, inspection and replacement.
Boom Point – Boom tip designed to easily accept Manitex Skycrane platforms. Detachable boom point sheave bracket allows for easy removal and stowage of load line for aerial platform operation.
Boom Elevation – Double acting hydraulic cylinder; working range from 15° below horizontal to 85° above. Counterbalance valves hold cylinder and boom in position.
HOIST
Winch – Single or two speed planetary winch; wet multi-disc internal brake, spring applied, hydraulically released.
| | |
| --- | --- |
| Maximum Line Pool | 5376 lb |
| Maximum Line Speed | 78 ft/min |
| Rope Capacity | 138 ft |
Wire Rope – 3/8″ diameter 6 x 25 IWRC wire rope with swaged swivel hook and latch.
Anti-two block – Wireless radio anti-two block system includes switch and receiver. Conforms to ANSI B30.5.
SWING SYSTEM
Swing Drive – Externally mounted single reduction worm gear swing drive; directly driven by a high-torque, low-speed hydraulic motor for smooth, controlled, operation. Swing speed is directly proportional by position of control lever.
Rotation – All SC series machines are equipped with hydraulic and electric swivels that allow continuous rotation in either direction.
OUTRIGGERS
Front and Rear Outriggers – Fully hydraulic outriggers extend to maximum overall spread for unparalleled machine stability. All cylinders equipped with check or counterbalance valves to ensure outriggers remain in position at all times. Jack cylinders operate independently for precise leveling; bubble level located near outrigger controls.
| | |
| --- | --- |
| Front Spread | 10′ opt |
| Rear Spread | 18'6″ |
MOUNTING
In true Manitex tradition, these machines are clamp mounted and require no drilling or welding to the truck chassis. This system allows for greater flexibility when positioning the machine on the chassis thus allowing the installer the ability to maximize available axle capacity.
Subframe – All SC series machines are equipped with a torsionally resistant, 4-plate, fabricated subframe that extends over the entire length of the truck chassis.
Pedestal – Clamp mounted to the sub-frame and truck chassis with threaded rods and chassis clamp brackets.
Boom Rest – Heavy-duty fabricated boom rest secures boom in place when traveling.
CONTROL SYSTEM
Outriggers – Valve mounted at the rear of the truck allows visibility to all outriggers for easy set-up.
Base station – Mounted on the curbside of the Turret, a four spool proportional control hydraulic valve operates the basic crane functions; elevation, rotation, telescope and loadline hoist. Controls for engine ignition start, throttle advance and emergency stop are also provided. Controls for the self leveling platform and hydraulic Jib winch added when appropriate.
Aerial platform – Platforms are equipped with a wired remote control system. The control box is fitted with electric joysticks to operate boom elevation, telescope, and rotation; basket control and Jib winch control. Switches for engine start/stop, emergency stop button, throttle advance, auxiliary pump is standard, optional generator start switch is also included when appropriate.
HYDRAULICS
64 gallon tank fitted with 10 micron high pressure and return filters, gear pump variable to 20 GPM, 3000 maximum operating pressure at high engine speed.
BASKETS & WORK PLATFORMS
Basket (standard) – One-man aluminum, gravity leveled basket. Equipped with safety lanyard anchor points; full body harness and lanyard for included. Basket is secured and cushioned by manual friction brakes and shock absorbers. Basket capacity is 300 lbs.
GENERAL
Electrical – Connectorized automotive style electrical system is state-of-the-art, fitted with rugged, weather proof components throughout.
Design/Welding – Welding conforms to AWS D1.1. Design conforms to ANSI B30.5 (mobile cranes) and ANSI 92.2 (aerial devices).
Paint – Standard Manitex blue and gray.
Manuals – Operator and parts manuals depict correct machine operation, maintenance procedures and parts listings
Warranty – 12-month warranty covers parts and labor resulting from defects in material and workmanship.
FEATURES:
Working Heights to 97′
Dual purpose machine; aerial platform and crane
Multiple tool and lamp box options
Extra long lamp box option in sub-frame
Easy ground level entry to Aerial platform
Aerial remote controls
Ground hydraulic controls
Remote engine start / stop
Auxiliary power unit
Hydraulic and Gravity leveled platforms
Platform Mounted Jib with Hydraulic Winch
360° work area with continuous rotation
Crane Tip Heights: 57′, 60′, 70′, 85′ & 92′
Nylatron pad equipped booms
Up to 6,000 lb lift capacity
Up to 24,000 lb lift capacity for SC85
Detachable load line
Radio anti-two block system
Rugged, Weatherproof, Automotive style electrical system
ORS Face Seal hydraulic fittings and adapters
Unparalleled machine stability
Heavy duty sub-frame
Clamp-on mounting
Design meets ANSI A92.2 and ANSI B30.5 recommendations
Note: In order to ensure continuous improvement, specifications may change without notice.
| | |
| --- | --- |
| SC62 General Specifications | |
| Nominal Rating | 6,000 lbs @ 5′ |
| Work Area | 360 ° |
| Maximum Tip Height | 56′ |
| Maximum Working Height | 62′ |
| Front Outrigger Spread | 10′ |
| Rear Stabilizer Spread | 18′ 6″ |
| Total Crane Weight | 12,205 lbs. |
To view Product Literature, click below: