Knapheide Crane Truck Bodies
The Knapheide Manufacturing Company – After 150 years of operation, The Knapheide Manufacturing Company has evolved into the nation's premier producer of steel service truck bodies and platform/stake style truck bodies.Our company has seen a lot of changes over the years, but one thing that will never change is our focus of meeting customer expectations.
Versalift East, Inc is a Knapheide OEM Distributor for aerial lift bodies only.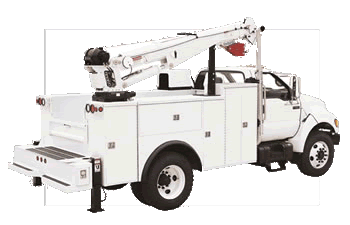 Model 6132DLR-60J
(60,000 ft. lb. Rated)
Every Knapheide crane body features our unique torq-isolator crane support system. The reinforced crane box transfers lift forces into the full-length torsion-box subframe and outriggers…not the side compartments. View the 6 Year Warranty (pdf).
Model

Applicable Models

Dimensions

Net
Weight
(lbs)

Max Crane Rating

CA

Body
Length Nominal

Body Height

Body Width

Comp. Depth

Floor Width

6108DL-38J
15,000 GVWR chassis up to 19,500 GVWR
with 19.5" dia. rims
(max. 34" tire dia.)

38,000
FT-LBS

60″

108″

44″

94″

22″

50″

2388

6108DLR-38J
15,000 GVWR chassis up to 19,500 GVWR
with 19.5" dia. rims
(max. 34" tire dia.)

38,000
FT-LBS

60″

108″

44″

2408

6132DL-38J
15,000 GVWR chassis up to 19,500 GVWR
with 19.5" dia. rims
(max. 34" tire dia.)

38,000
FT-LBS

84″

132″

44″

2911

6132DLR-38J
15,000 GVWR chassis up to 19,500 GVWR
with 19.5" dia. rims
(max. 34" tire dia.)

38,000
FT-LBS

84″

132″

44″

2931

6132DLHR-60J
Medium duty chassis
19,500 GVWR and up
with 22.5" dia. rims
(max. 46" tire dia.)

60,000
FT-LBS

84″

132″

52″

3200